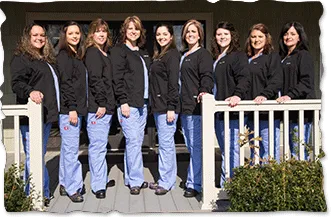 We are a full-service general family dental practice in Pink Hill, NC. Formerly named Pink Hill Family Dentistry, Dr. Chrystal Rooks established Rooks Dentistry in 2010. We offer a wide range of services catering towards our patients' general, preventative, aesthetic, and restorative dental needs.
Our dental team works hard to ensure patients receive the individualized care they deserve, and we take pride in continuing our dental education to give our patients the best treatments available. We offer exceptional patient care, state-of-the-art technology, and a complete range of dental services. Patients are our first priority, and we strive to make every experience in the dental chair stress-free, positive, and educational. We work to make every patient confident in their own oral health and in turn, their overall well-being. Starting with your first visit, we are committed to your individual attention and strive to provide personalized oral health care that is tailored to your unique dental needs and goals.
It is also our goal to educate our patients about dental hygiene because we believe educated patients to make the best decisions regarding their oral health. Our office and your visit are always all about you- your happiness, your comfort, your health, and your overall satisfaction. We look forward to treating you and your family and invite you to contact us with any concerns or questions and to learn more about achieving the smile of your dreams.